OUR INDOOR AIR QUALITY FEATURED PRODUCTS
The Only Technology Available in Products Proven to
Reduce COVID-19 on Both Surfaces and In the Air
ActivePure Technology has been scientifically proven to reduce airborne SARS-CoV-2 novel coronavirus in the air.
ActivePure Technology was tested on live SARS-CoV-2 virus, not proxy or surrogate strains like many competing technologies use
Proven kill rate of over 99.9% of airborne SARS-COV-2 within 3 minutes
Tests completed in partnership with a Biosafety Level 4 and Biosafety Level 3 combination lab team, following strict FDA protocols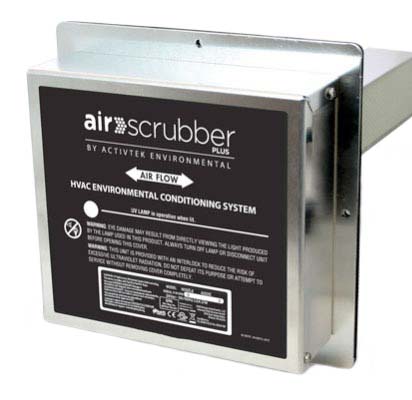 Bring The Cleaning Power
Of Nature Indoors
CLEANS
Air Scrubber® with ActivePure™ technology, makes cleaning surfaces, mopping up offending odors, and reducing harmful airborne contaminants as simple as turning on your furnace, fan, or air conditioning system.
FRESHENS
Why spray and scrub surfaces or disguise strong odors with toxic chemicals? Air Scrubber® not only purifies the air in your home, it reduces strong odors by naturally mopping up the particles that keep those odors lingering.
PURIFIES
Unlike air filters that are passive - Air Scrubber® actively treats the air by continually sending out ActivePure scrubbers throughout your home to greatly reduce chemicals, dangerous contaminants, mold, odors, and pollutants in the air.
AIR SCRUBBER® IS A SEAMLESS, FULLY INTEGRATED, 24/7 WHOLE HOME AIR PURIFICATION SYSTEM.
Since 1924, Aerus products with ActivePure Technology have provided healthy indoor environments for 50 million businesses and residences worldwide. ActivePure Technology is safe to use in occupied spaces and does not use chemicals or ozone. ActivePure Technology is available in both installed and plug-and-purify products and is already used in:
Athletics and Professional Sports
Bars & Clubs
Beauty Industry
Coworking Spaces
Day Care Centers
Dental Offices
Early Education/Preschools
Education/Schools
Entertainment Venues
Gaming Facilities
Government Buildings
Grocery Stores
Gyms/Fitness Centers
Health Care Facilities
Hospitals
Hotels/Vacation Rentals
Museums
Office Buildings/Business Parks
Retail Establishments
Restaurants
Veterinary Clinics
Wellness Businesses