Excellence Has been Our Hallmark Since 1988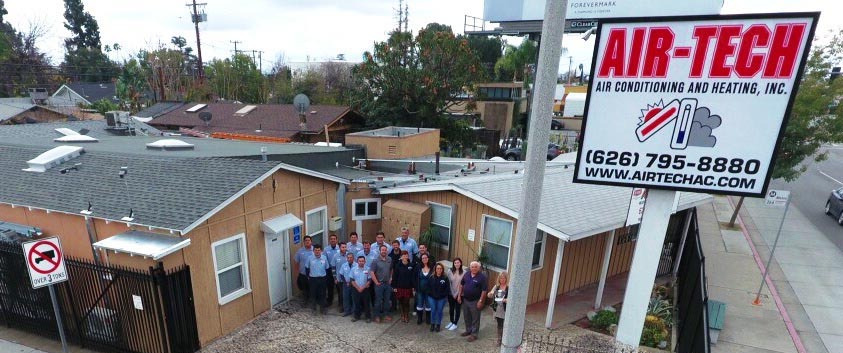 Air-Tech Air Conditioning & Heating, Inc. is a customer-focused air conditioning & heating company that was originally started in 1988. Located in beautiful Pasadena, California, we employ highly-trained people whose goal is to make our company one of the best service companies in the Los Angeles area. At Air-Tech Air Conditioning & Heating, we go beyond expectations to deliver outstanding solutions for all heating, air conditioning and ventilation needs. From routine system maintenance and upgrades to complete installation and repairs, our family business brings more resources and experience to every job than most other HVAC providers in the San Gabriel Valley and beyond.
Our company specializes in designing, engineering, and installing complete comfort systems for owners of existing homes and buildings just like yours. We take special pride in the craftsmen we train and employ--a fact you'll notice immediately in the attitude and integrity they bring to your job site. Our entire company works hard to make your experience with us hassle-free and enjoyable. If you are not satisfied with our labor we will do everything in our power to correct it to your satisfaction.
Our family keeps your family comfortable. From the professionalism of our comfort advisors to the dedication of our field personnel, we are dedicated to delivering you the best. We take our responsibility very seriously when you place your trust in us. Our team provides solutions for all projects and spaces, large and small—and customize them to your requirements for energy efficiency, air quality and purification, temperature control, and all-around operational excellence and comfort. We pledge to always tell you up front what your cost will be to complete your job correctly. We make it a point to go over any details or limitations of the proposed system that will affect your enjoyment of the end result. You are told exactly what to expect up front.
Don't just take our word for it—take a look at some of our customer testimonials. Give us a call for your service needs and see what you've been missing.