Mitsubishi Electric Cooling & Heating (Mitsubishi Electric)'s ductless systems or Zoned Comfort Solutions™ are comprised of an outdoor unit connected by refrigerant piping to one or more indoor units. Indoor units come in a variety of styles, and can be networked together to create multiple zones – each controlled separately. A single outdoor unit can create one large zone, eight zones or anything in between. Likewise, a system can include ducted indoor units, ductless indoor units or a mix. What you want for your home determines how your system is configured (and how much it costs).
Zoned Comfort Solutions are sophisticated HVAC (heating, ventilating and air conditioning) systems available for use in almost all U.S. climates. These are definitely not your run-of-the-mill central systems that force you to have one thermostat for an entire floor or entire home. Zoned Comfort Solutions provide individualized zone control, allowing you to save energy and money by more efficiently controlling energy usage, while offering personalized comfort in each space of your home you want to cool or heat.
Millions of homeowners worldwide have already purchased Zoned Comfort Solutions from a Mitsubishi Electric contractor and everyone has their own reason for doing so. For most people, there's an interest in
three key benefits: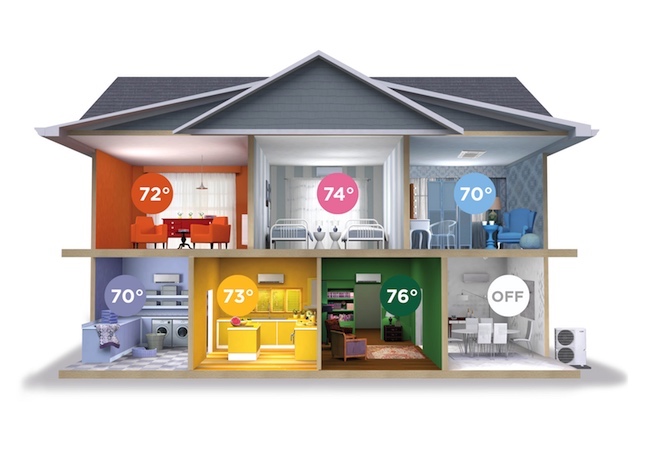 Zoning. When you work with your HVAC Contractor to design your home's system, you'll decide how many rooms you want to set up as zones. Maybe you live in a so-called tiny house and want just one zone for the whole place. Maybe you have a larger home and want one zone for you, one for each of your kids' rooms and a couple for the common spaces. By working with a trained contractor, you can vary the number and location of zones to meet your specific needs. This ability to personalize your comfort – to create specific zones based on usage and to operate those zones independently – is a big draw with this technology. This means your den and its frequently used treadmill can be set to 70 degrees Fahrenheit while your newborn baby's room right next door can be set to 75 degrees . . . all while your unused guest room can be shut off entirely so you save energy.



Quiet Operation. With a central system, you experience the whoosh and whistle of air moving through ductwork, the vibration of the indoor unit and the rumble of the system constantly starting and stopping. This is due to a combination of issues all stemming from the outdoor unit's design and performance, including: a large fan with spinning metal blades creating noise; the fan and fan motor are loud; the compressor sits exposed in the unit compartment and vibrates, causing noise; and the whole unit bangs on and off.
In contrast, Zoned Comfort Solutions' outdoor units are specially engineered and manufactured for quiet operation. The high-efficiency DC motors and the plastic fan blades are designed to minimize the dreaded chopping sound that many central systems make. The compressor is also housed in its own insulated compartment and sits on rubber feet for maximum vibration dampening. Because the compressor is INVERTER-driven, it typically runs at a low frequency to maintain the desired set point and only ramps up to rapidly cool or heat a zone. Meanwhile, you will barely notice the unit running, which will bring joy to you – and your neighbors!
Zoned Comfort Solutions' indoor units are also incredibly quiet. They feature a small, compact footprint and have specially designed fans that deliver powerful and consistent airflow extremely quietly. Ductless and short-run ducted units operate at barely detectable sound levels.



Efficient Operation. Zoned Comfort Solutions minimize the amount of energy used to maintain your desired indoor temperature. Conventional systems are either on or off – all or nothing, using the maximum amount of energy to cool or heat the entire house. In contrast, Zoned Comfort Solutions divide the capacity by zones, and have compressors that ramp up or down based on the needs of each zone to maintain comfort and conserve energy. Many systems are also ENERGY STAR® qualified.With so many options available to you, it's easy to see why Zoned Comfort Solutions are not as straightforward to price as some other cooling and heating systems. This isn't a window a/c unit you can buy online and insert into your window. This is a state-of-the-art system that can be configured to your specific needs and installed many different ways. For this reason and others, a Zoned Comfort Solution must be designed and installed by a licensed HVAC contractor trained to design and install this very kind of system.