Our company is committed to the technical excellence of the service we provide you and, therefore, require our 'champion' technicians to attend regular training sessions. Besides the technician who actually does the repair, Air-Tech Air Conditioning & Heating has highly competent and experienced field supervisors who, although you may never see, provide valuable backup to the technician. So, should a second opinion ever be required about a technical question, you don't have to worry because the technician has highly qualified expertise to bring to each call.
Also, additional backup is available in the office to support the field technician on your job. Should a question arise about prior work performed for you, or if a part needs to be special ordered, the technician needs only to call to access that help.
When you combine all of this with the thoroughly stocked service vehicles, the cutting edge communication technology, the 'family friendly' service people and the rigorous employment screening, you can understand why we call the person who we deliver to your door a 'champion' technician.
HOW N.A.T.E. BENEFITS YOU
Experience product efficiency, greater home comfort and peace of mind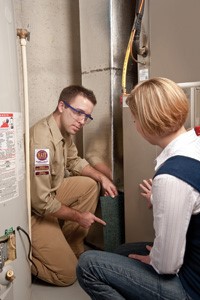 For superior installation and maintenance or service of your heating, ventilation, air conditioning or refrigeration system, ask for a NATE-certified technician. NATE-certified technicians are skilled professionals who have proven their knowledge in the HVAC/R industry by passing specialized NATE certification tests. When choosing a contractor, be sure to ask that a NATE-certified HVAC technician comes to your home or business.
*NATE encourages the use of NATE certified technicians for superior installation and maintenance or service of heating, ventilation, air conditioning, or refrigeration systems. NATE certified technicians have proven their knowledge in the HVACR industry by passing specialized NATE certification tests; however, NATE does not directly supervise or employ technicians, and does not endorse or guarantee their work or performance. As a result, NATE disclaims any liability related to services performed by an individual technician or recommended employer.
HOMEOWNERS COME FIRST
Learn how you'll benefit from hiring a NATE-certified tech with this quick, informative video.
WHEN USING A CERTIFIED NATE TECH, YOU'LL BENEFIT BY:
Lower utility bills through proper installation and maintenance
Fewer callbacks and warranty returns
Fast, efficient service
Job done right the first time
Equipment that runs at peak efficiency
Advice & knowledge of skilled, certified technician
Greater peace of mind
From air conditioning and heating installer certifications to residential and light commercial maintenance, NATE techs are the best in the business. So when you call a contractor, ask if they use NATE-certified technicians. If they do, ask them to send a NATE technician to your home. If they don't, use our contractor locator to find a NATE-recommended contractor.
IT'S OBVIOUS—CONSUMERS PREFER A NATE-CERTIFIED TECHNICIAN